Experience nature in opulent comfort in your luxury garden room
Escape to Your Own Private Oasis with Contained Living.
Apply for financing
Want to spread your payments? We have partnered with Kandoo to provide financing for our garden rooms.
Expand your living space without the hassle of an extension.
Our garden rooms offer a versatile solution, providing you with additional living, working, and recreational space – all without the hassle of obtaining planning permission. Enjoy the freedom to create your ideal environment, tailored to suit your needs and desires.
Our garden rooms are thoughtfully designed to align with permitted development regulations, eliminating the need for planning permission in the majority of cases.
Our garden rooms boast exceptional thermal insulation, guaranteeing a consistently comfortable temperature throughout the year. Experience optimal comfort, regardless of the weather, and enjoy your space to the fullest.
Our garden rooms are meticulously designed to ensure swift and effortless construction, effectively minimising any disruptions.
Self-Build Kit

Constructed Structural Shell

Fully Built
Order a flat pack kit to build your garden room yourself
Our flat pack kits provide all the necessary components for constructing a sturdy and weather-resistant structure. These include:
- SIP panels and splines for walls, floor, and roof
- Structural timbers
- Stylish Grey CanExel cladding for side and rear walls
- Elegant Red cedar cladding for the front wall
- Complete EPDM rubber roofing kit
- High-quality fixings and adhesives
- uPVC 24mm argon filled windows and doors
- Clear and comprehensive assembly instructions
With these comprehensive kits, you have everything you need to effortlessly build your ideal structure.
We can build your weathertight garden room structure
We offer our garden rooms as a meticulously constructed structural shell, allowing you to personalize and design the interior to your liking. Within a day, we ensure the structure is weathertight, and within a week, we complete the exterior. For those seeking a perfect balance of customizability and convenience, our garden rooms are the ideal solution. Our Constructed Structural Shell consists of the following elements:
- Erecting the SIP structure
- Installing doors and windows
- Adding EPDM roofing
- Applying a weatherproof membrane
- Installing external cladding
Let us build your garden room for you
We offer a comprehensive turnkey solution for your garden room needs. Our skilled team will construct the structural shell on-site and provide expert interior finishing, ensuring a seamless and hassle-free experience.
Our fully built garden rooms include the following features:
- Sturdy constructed structural shell
- MDF matchboard for elegant interior walls and ceiling
- High-quality LVT flooring for a stylish look
- Complete electrical wiring with sockets and switches
- Energy-efficient LED lighting for a cozy ambiance
- Exterior solar lights positioned strategically above the door, enhancing security and aesthetics.r
Garden Room Designs
Explore our diverse selection of garden room designs, carefully crafted to comply with permitted development regulations. These versatile spaces cater to a multitude of purposes, such as home offices, garden bars, entertainment areas, yoga studios, home gyms, hobby rooms, and much more.
Choose the option that suits your needs:
- Flat pack kits for self-builders
- Structural shell, primed for your own interior finishing
- Fully assembled, complete with our standard interior finishing
Discover the perfect garden room for your lifestyle and unlock endless possibilities for your outdoor sanctuary.
Aspley
The Aspley comes in various sizes, offering abundant space for a multitude of purposes. With its generous infusion of natural light, it transforms into a versatile haven tailored to meet your specific needs.
Take a look at the available sizes:
- 2.5m x 2.6m
- 3.8m x 3.2m
- 4.4m x 3.2m
- 5.0m x 3.2m
- 6.2m x 3.2m
Horwood
Discover the Horwood: a space that exemplifies simplicity and elegance while maximising functionality. Perfect for a home office, yoga studio, gym, or any purpose you envision. With sizes ranging from 4.4m x 3.2m to 8.7m x 4.4m, select the dimensions that best suit your needs. Unleash your imagination and create your ideal space.
Woburn
The Woburn offers an exquisite touch to the Horwood, featuring elegant screening and an extended overhang. This creates a premium outdoor space that seamlessly blends with your garden room. The Woburn is available in a range of sizes, from 4.4m x 3.2m to 8.7m x 4.4m, catering to your specific needs and preferences. Experience the epitome of sophistication with the Woburn garden room.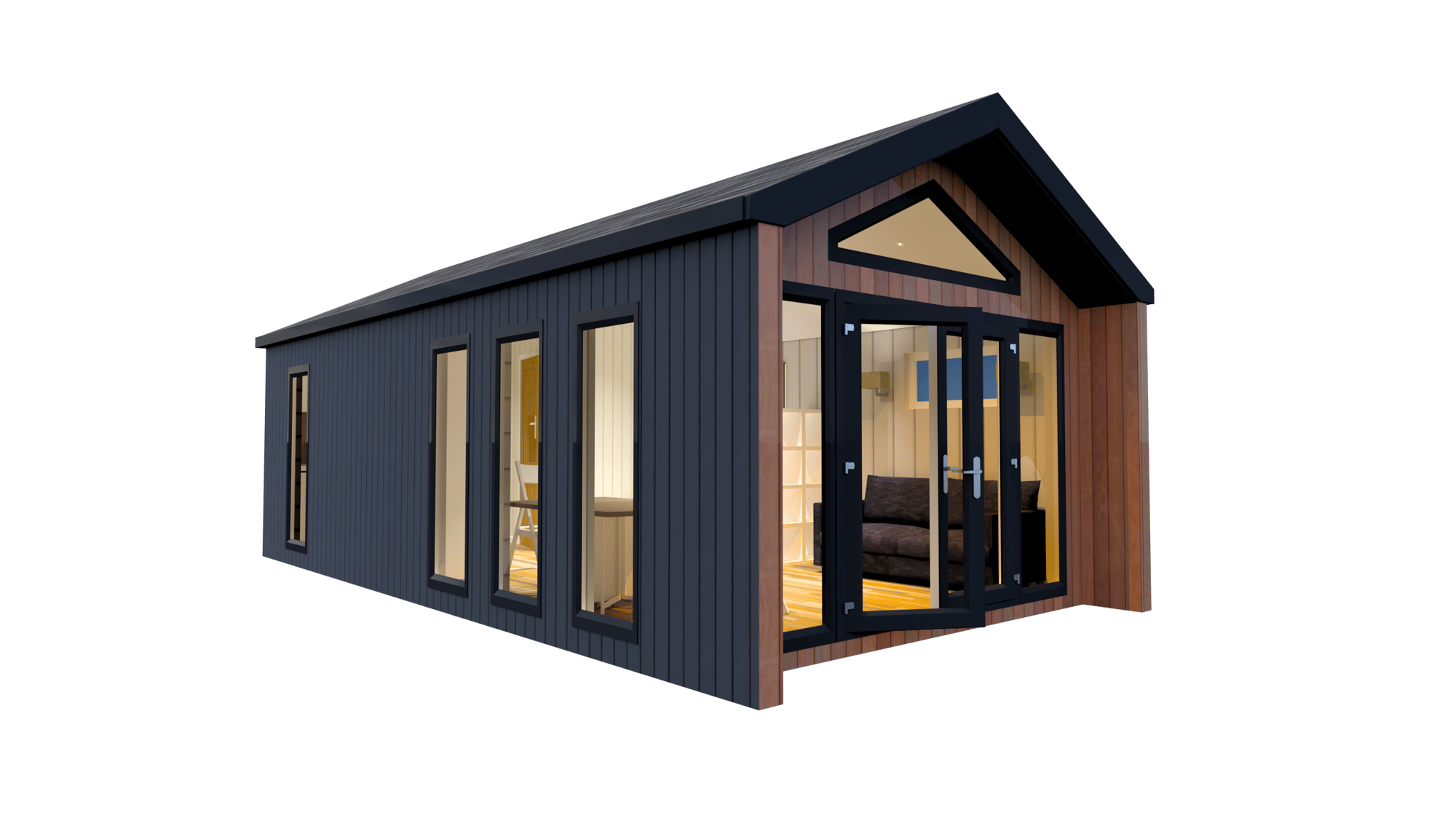 Walton
Experience the beauty of a meticulously designed open space, adorned with a dual pitched roof that fills the room with natural light and an inviting ambiance. This versatile space can be tailored to serve as a charming guest house, or an exceptional AirBnB retreat. With a range of sizes available, from 4.4m x 3.2m to 8.7m x 4.4m, there's a perfect fit for every vision.
Emberton
Featuring a charming pitched roof and elegant design, the Emberton offers a versatile space that can be customized to suit various needs. Whether you're looking for a cozy home office, a relaxing garden retreat, or a functional studio, this spacious structure has you covered. Available in a range of sizes, from 4.4m x 3.2m to 8.7m x 4.4m, the Emberton provides ample room for your creative pursuits and personal style. Enjoy the perfect blend of functionality and aesthetics with this stunning addition to your space.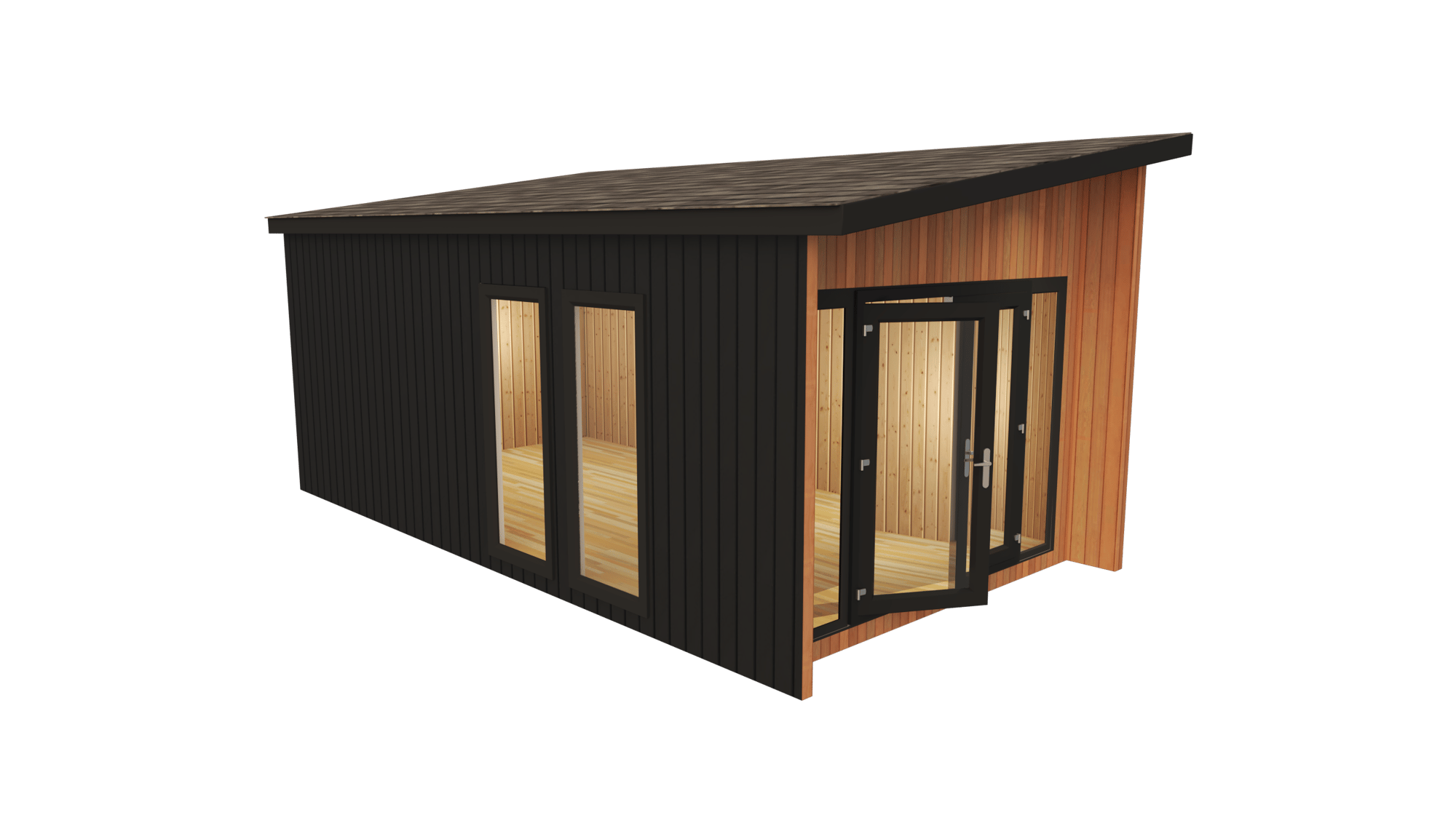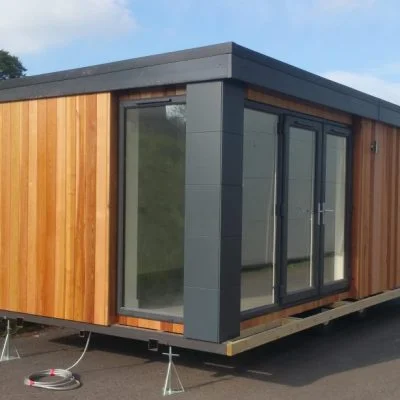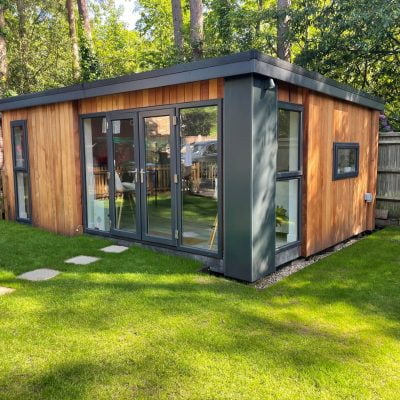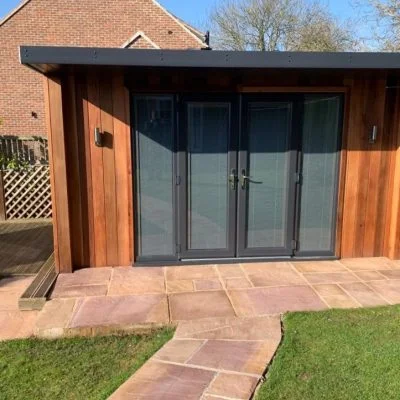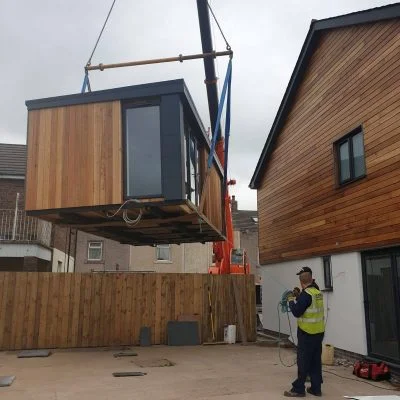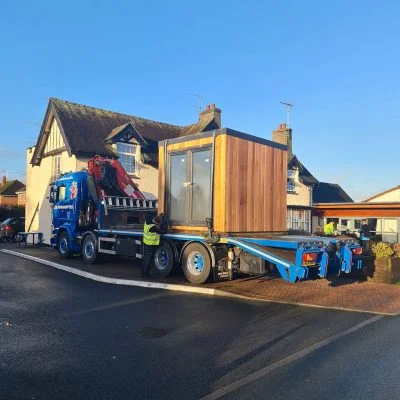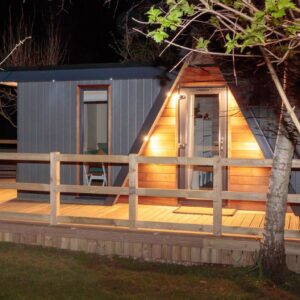 Do I need planning permission?
Our garden room kits have been designed in sizes that do not generally need planning permission.
However, whether you need planning permission for your garden room depends on the size, location, and specific regulations of your local council.
We recommend checking with your local council to determine if you need planning permission for your garden room.
Do I need extra insulation?
No!
Our garden rooms are constructed using Structural Insulated Panels (SIP) which offer great thermal insulation properties without the need for additional insulation.
Our garden rooms are designed for thermal class 2 as a minimum.
Do you offer a warranty?
Yes. We offer a 12 month guarantee on our flat pack kits and workmanship.
What foundations should I use?
Depending on your ground conditions, we recommend a timber sub-frame either concrete pads or ground screws.
Do you supply foundations?
Yes. We can offer concrete pads or ground screws as an optional extra.
The type and price for your foundations will depend on your ground conditions and may require a survey prior to quoting.
What is included in the flat pack kit?
Our flat pack kits include the following as standard:
SIP panels:

98mm thick walls and floors
122mm thick roof

SIP jointing splines
C24 timbers
uPVC door(s) and window(s)
Red cedar cladding for front wall
Grey CanExel cladding for side and rear walls
Specialist screws, nails, jointing adhesives and foam
EPDM roofing kit with trims and adhesives
Assembly plans and instructions
How will my kit arrive?
Your kit will be delivered on pallets. The panels will be stacked and wrapped to protect from the weather.
We strive to deliver the full kit with a single trip. However, there may be multiple deliveries based on your location and any optional extras included in your order.
Do I need any lifting equipment?
No! Our kits are designed so that the materials can be carried by manual handling.
Can you build my garden room for me?
Our flat pack kits are designed so that a DIY'er or self-builder can construct them.
However, we can assemble your garden room on-site once it is delivered.
We can build the structure off-site and deliver to you either as a completed shell or fully-fitted out but this may not be possible, depending on your location and logistics.
What is the lifespan of the garden rooms?
Our garden rooms are expected to last up to 40 years, if maintained correctly.
What is the lead time?
We usually aim to deliver our kits within 4-6 weeks but this may vary depending on our available manufacturing slots.
Luxury Garden Room Enquiry